As a runner, what you do off the track, road, or trail often has just as big an impact on your race performance as what you do on it. Research shows that regular cross-training—plyo circuits, power lifting sessions, bootcamp-style workout classes, or even cycling—can help make you fitter, stronger, and faster. But first, to really boost those benefits and reduce your risk of injury, you need to swap your regular running shoes for a training-specific style, like the ones below. Keep reading to learn why and how these workout shoes give you the stability, bounce, and support you need—and why your high-mileage pairs probably don't.
Best Shoes for Cross-Training
The Expert: This guide builds on the work of fitness editor Lindsey Emery, a runner and reviewer of gear related to health and wellness. To update the product selections, I added my knowledge and experience as a runner, multisport athlete, and dabbler in the CrossFit world. I've been a shoe reviewer at Runner's World for more than 10 years, both on staff and as a freelancer. In that time, I've tested dozens upon dozens of running and cross-training shoes, so I'm well-versed in seeking out features that make a great trainer.
What to Consider When Choosing Cross-Training Shoes
A good cross-training shoe provides the versatility for tackling both strength training and cardio workouts, while also being specialized enough to support specific activities in your training plan. Unfortunately, there's no one shoe that works equally well for everyone and every workout—your footwear needs will likely vary based on interest, fitness level, and foot type. But we've found that some shoe features function well across the board, whether your workout takes you to the treadmill or the CrossFit box. Here's what to look for.
Lighter, more flexible cushion at the midsole
Cross-training workouts often include sprints and short bursts of running, which makes a certain amount of midsole cushion essential for comfort and impact absorption. But unlike in running, those workouts are also more likely to incorporate lateral movements, as in skaters, side-to-side lunges, grapevines, and side shuffles. For this reason, you'll want wider, more stable shoes with less cushion underneath for a more grounded feel, plus more flexibility at the midsole for multidirectional movement. You'll also want a lower heel-toe drop than you might in a running shoe, and more even cushioning throughout.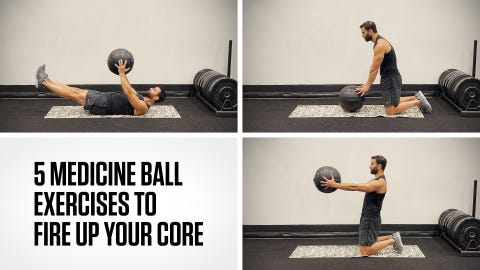 A flatter sole or lifted heel
Weight lifters in particular often do well in flat-soled shoes that have a firm midsole and wider base for better grip on the floor. This provides a better sense of stability than with cushy running shoes, as your feet can spread out and feel more connected to the ground beneath. Other lifters prefer more dedicated weight-lifting shoes with a raised heel of up to an inch. This stiff, firm wedge helps the body better maintain alignment during lifts and squats. Good cross-training shoes for weight-lifting incorporate these characteristics but also integrate cardio-friendly features like softer forefoot cushioning and more breathable uppers.
A grippy, durable outsole
Cross-training movements tend to put more wear and tear on a shoe, due to their dynamic range of movements. For this reason, you'll want to look for shoes made of long-lasting materials with targeted reinforcement in the outsole—including high-traction tread that won't slide on the gym floor or blacktop.
An upper that provides solid lockdown
Most running shoe uppers are designed to be lightweight and breathable above all, but a good cross-training upper needs to be beefier, more durable, and secure-fitting without losing that same sense of comfort. To support more explosive, multidirectional movement, you'll often find added TPU overlays and Velcro straps on cross-training uppers that lock down the foot and hold it securely in place.
How We Selected These Cross-Training Shoes
To make these recommendations, we looked for cross-training shoes with design elements that help support multi-directional movements, explosive workouts, cardio/strength circuits, and heavy lifting sessions. These features include flexible uppers, cushioned (yet firm where you need it) midsoles, minimal heel-to-toe drops, reinforced heels, extra grip, and protective overlays. Some of these shoes have been tested by the Runner's World test editors and wear test team; others were selected on the basis of experience with earlier iterations of the shoe or extensive research of online reviews. We started in 2021 with a list of 12 and updated in 2022 to include the best new releases.
→ Head here for the most comfortable shoes you'll ever run in. 🏃‍♀️ 🏃
---
BEST FOR CROSSFIT
Reebok Nano X1
If you're looking for something to help you rock all those WODs (that's Workout of the Day for you CrossFit newbies), this newest iteration of the beloved Nano is everything you need and more. Its wide base, lightweight heel clip and low-to-the-ground (aka, minimal heel-to-toe-drop) design provides extra stability for heavy weight days, a super responsive foam midsole adds some protective cushioning for plyo circuits. A soft, flexible, yet tightly woven upper keeps your feet cool and comfy, no matter how intense (or sweaty) your session gets. Strategically placed grooves on the rubber outsole improve grip both when you're standing still and moving fast in multiple directions, too.
---
BEST FOR OUTDOORS
Reebok Nano X1 Adventure
Created as a smart solution for exercisers who are opting for outdoor workouts rather than studio sessions, this cross-training shoe basically provides all the benefits and comfort of the Nano X1, but with a more rugged exterior. It's low to the ground, lightweight, flexible, and just cushioned enough underfoot for executing both strength and speed-building moves. It also has sturdy rubber lugs on the outsole that offer good grip while performing lunges on your driveway, strides on the trail, or lateral drills in the park. Its upper is covered with a breathable yet durable ripstop fabric that conforms to your foot and helps protect you from rocks and other debris you may encounter mid-sweat. Plus, an anti-microbial lining leaves your feet smelling fresh throughout.
---
BEST FOR LOTS OF RUNNING-HEAVY WORKOUTS
Hoka Kawana
This new max-cushioned trainer is designed for running and cardio-heavy cross-training—and we found it to be a comfortable and effective option for both. The Kawana is slightly heavier than some of our favorites from Hoka, like the Clifton and Mach, but it boasts a similar abundance of cushion, high rebound, and smooth ride from its supportive, somewhat firm midsole. The breathable mesh upper provides a generous fit with solid foot lockdown for movement in all directions. Although the shoe feels great for HIIT workouts and running, it might not be the best choice for weight lifting, due to its soft midsole and high stack. The rubber outsole's traction also drew mixed reviews from our testers—we suspect it's better suited to the gym and not wet pavement.
---
---
BEST CIRCUIT BREAKER
Under Armour Project Rock 4
The Project Rock 4 is a dedicated cross-training shoe designed to be as versatile and multi-talented as its actor and wrestler namesake, Dwayne Johnson. And with each new iteration of the eponymous shoe, Under Armour has incorporated more of its best technologies aimed at making you feel fast—and furiously strong—in the box. The 4 boasts a HOVR foam midsole that feels springy and responsive as you burst into motion during HIIT workouts. The low heel counter provides good foot lockdown and a stable base, while the raised heel helps you maintain postural alignment while lifting. The shoe's "Tribase" outsole design is equally multipurpose: Triangle-shaped grooves in the synthetic rubber provide solid grip indoors and out, while allowing the shoe to flex multi-directionally for forward and lateral explosive movements. The biggest difference between this shoe and the previous model is up top—the 4 has a TPU strap at the midfoot for enhanced foot lockdown, as well as a more breathable engineered mesh upper with an anatomical sock liner and less of a bootie-like design.
---
BEST FOR HIIT
Nike SuperRep Go 3 Next Nature Flyknit
The latest shoe in Nike's HIIT-focused SuperRep Go training line, the 3 Next Nature Flyknit was designed to raise the bar for use of recycled and sustainable materials without sacrificing performance, comfort, or style. The shoe has a flyknit upper that hugs the foot into position, with enough stretch and flexibility for dynamic movements. For cardio workouts, the lightweight foam midsole provides enough cushion and bounce to support your body while you get your heart rate up, whether you're jumping and lunging or tackling a light treadmill run. The strategically designed and colorful outsole has flexible grooves underfoot for better spring-off, plus enhanced rubber where you need it for added durability and traction.
---
BEST BALANCE BUILDER
Mizuno TF-01 Training Shoe
The Mizuno TF-01 aims to enhance performance by using an innovative technology to boost your balance. A flexible grid on the shoe's outsole corresponds to a layer of pea-sized round pods in its soft, poly-foam midsole. The raised texture from the pods against the bottom of your foot makes you feel more connected to the ground and sends more feedback to your body with every step. An intricate diamond design on the outsole provides greater grip and lateral support for agility training. This lightweight pair of cross-training shoes also has a soft, woven mesh upper and a reinforced heel, so you feel stable and comfortable, no matter what kind of workout you're doing—or how fast you're doing it.
---
BEST DRILL MASTER
Inov-8 F-Lite G 300
This brand new style from Inov-8 feels like a running shoe but performs like a cross-training shoe. Its outsole and midsole are infused with Graphene, a strong, high-tech material that adds unparalleled durability, stability, and grip for lifting, while a breathable, knit upper and responsive cushioning throughout means extra comfort for jumping and other explosive drills. With a 6mm drop from heel to toe, it offers a little more support than some other more low-profile styles (which can be good or bad, depending on who you ask!), and it features 360-degree protection for rope climbs.
---
BEST FOR LIFTING
Reebok Legacy Lifter II
A favorite among elite athletes for a reason, the Legacy Lifter II is dialed in just right to help keep your weight balanced under heavy loads. It has a stiff outsole with a raised heel and heel clip for added stability, a breathable textile upper, and a durable rubber outsole that allows you to maintain grip while you lift. Plus, its laces-strap combo locks down your midfoot, making sure everything is well positioned throughout your cross-training session.
---
BEST FOR SPRINTERVALS
Nike Air ZoomX SuperRep Surge
Regardless of how you like to squeeze in your cardio bursts, the Surge is ready to deliver. It's super-comfy, with a super-light, super-cushy (yes, it's called "super" for a reason) foam midsole that helps put a spring in your step no matter what activity's moving you forward. Plus, extra arch support gives you plenty of stability when you switch back to cross-training. This multi-functional shoe has a heel that's designed specifically to gently clip into rowing machines (which is an incredible at-home workout tool, BTW) and a breathable, reinforced mesh upper that won't break down against any machine's straps. A smart rubber tread on the outsole provides the perfect amount of traction for both the treadmill and the studio floor, too.
---
BEST STABILITY
Puma Fuse
An innovative new style from PUMA, the Fuse has a lot to offer in the functional training space. It's low to the ground, with a 4mm heel-to-toe drop and extra stability in the heel, giving you a solid base for strength training, has a toe box that's just wide enough for your toes to splay out for additional stability without letting them get lost in there, and a shock-absorbing midsole for landing the perfect jumps and sprints. The durable, yet flexible rubber grip on the outsole helps keep you on your feet without limiting movement. And mesh overlays and reinforced rubber are strategically placed in high-wear areas around the shoe to provide extra traction, support and durability for moves like rope and wall climbs, rowing, and heavy lifts. This cross-training shoe is available in unisex-sizing only.
---
BEST IN-STUDIO
Rykä Dynamic Pro Training Shoe
Whether you're busting a move on the dance floor or simply jumping and lunging around your at-home fitness studio, the Dynamic Pro Training Shoe provides the support you need to stay comfortable while you sweat. A well-cushioned foam midsole adds bounce and reduces impact on landing, while a soft, narrow heel cup helps keep you steady on your feet. A wider toe box gives your digits room to breathe. Strategically placed flex grooves on the outsole allow your foot to move smoothly in all directions, and a unique pivot point makes it easier to turn on a dime.
---
BEST MULTI-TASKER
Nike Metcon 8
The Metcon is a gym-rat fan favorite—especially among those in the CrossFit world, where the shoe's wide platform, supportive base, and overall flexibility make it well-suited to weight-heavy workouts and dynamic exercises alike. With every iteration of this versatile trainer it gets more effectively cushioned for cardio and strength workouts without losing the comfort, breathability, and overall style that have made it a winner for so many years. This version of the shoe has a React foam midsole with just enough cushion and forefoot softness for cardio sprints, combined with a firm, flat heel that gives you a good base for lifting. The treaded rubber outsole finds traction on any surface and won't wear down quickly. Plus, it has a breathable mesh upper with plenty of space at the toe box for your toes to splay naturally and give you a planted feel. It's the perfect one-shoe-fits-all option for those who like variety in their fitness life.
---
BEST FOR WEIGHT-HEAVY DAYS
Nike Romaleos 4
The Romaleos 4 is an expensive shoe, but one that's found many fans in the weightlifting world—particularly among those who like the fit, feel, and style of Nikes. Some of the shoe's popularity comes courtesy of its supportive midsole and high heel wedge over a flat, wide platform, which provides a stable base for lifting. But the custom-feeling fit is also a draw—two wide straps that secure over traditional laces provide an almost unparalleled level of lockdown during fast, explosive movements. Both weight-heavy and cardio HIIT workouts also benefit from the shoe's grippy rubber outsole and high traction.
---
BEST FLEXIBILITY
Inov-8 F-Lite 235 V3
The F-Lite 235 V3 packs quite a bit of performance into a relatively streamlined cross-training shoe—with a plush feel (especially for a shoe with a minimal 4mm heel-to-toe drop) and a midsole that provides good cushioning under the heel and returns a solid amount of energy in the forefoot. The upper also takes advantage of two different types of mesh: a finer, firmer mesh adds rigidity along the outside of the shoe and, along the inside, a more loosely woven mesh adds breathability and flexibility so your foot can move around freely and comfortably. The gum rubber outsole also allows for natural foot movement with its segmented, metatarsal-like channels that run heel to toe. The abundance of durable synthetic overlays will speak directly to CrossFitters looking for extra protection for intense activities, like rope climbs and box jumps, but these lightweight, free-moving trainers should interest anyone looking for something that feels a little more natural (er, barely there) underfoot.
---
BEST POWER BOOSTER
On Cloud X
Whether you're doing a quick plyo workout, sprints on the track, or a combination of the two, the Cloud X could definitely be the right shoe for you. On, a Swiss running company with smart, strategically designed running gear, created this lightweight, no-sew style as a potential solution to all of their runners' cross-training needs. The adaptive design leverages On's unique CloudTec outsole, a flexible grid of hollow Zero-Gravity Foam pods that work together to cushion the blow of all the forces joints are subjected to during explosive workouts that incorporate running (forward), jumping (up-down), and lateral (side-to-side) movements. A cushioned, dual-density midsole offers support and flexibility for gym sessions, while also delivering a crisp, responsive ride when you still need it.
---
BEST GRIP
Under Armour TriBase Reign 4
Flexible where you need movement and firm where you don't, the TriBase Reign 4 is as functional as the types of workouts—CrossFit, HIIT and Olympic lifting, etc.—it is designed to support. It's low to the ground (with just a 2mm heel-to-toe drop), and it has a built-in heel counter that keeps your foot locked in place while you lift and a full-rubber hatched outsole that combines durability with loads of grip. Much like the Tribase Reign 3, this version of the shoe provides excellent flex in the forefoot to help you perform functional movements and responsive cushioning for high-impact activities—plus a wraparound outsole at the midfoot for gripping ropes. But it also sports a more traditional-looking upper made of breathable layered mesh that holds your foot into place during burpees, overhead lifts and other box-friendly activities.
---
BEST FOR GIVING 110 PERCENT
Nobull Gum Trainer
This take on the CrossFit-friendly brand's classic Trainer, which comes in a variety of colors, features a tight-fitting mesh upper wrapped in SuperFabric, a lightweight, breathable abrasion- and slash-resistant material. The rugged construction is less flexible at first, but once you break them in a little, they become much more comfortable. The grippy, flexible rubber outsole is patterned for multi-directional movements, and a short, 4mm heel-to-toe drop makes the shoe capable of transitioning from weights to running with ease. It also features a medial rope grip for when you're really going after it.
---
MOST VERSATILE BARGAIN
Adidas Dropset Trainer
A dedicated cross-trainer, the Dropset is as versatile as it gets in the fitness shoe world. The shoe's dual-density midsole has enough forefoot cushioning to make it comfortable for sprints and short-distance running, with a stiffer heel that supports weight-lifting. The breathable mesh upper has a roomy forefoot that doesn't cramp wider feet, and a tighter, more secure-fitting heel prevents the foot from sliding or shifting. Multi-patterned tread on the rubber outsole gives the shoe plenty of traction in the gym or on the pavement. You likely won't want to put in serious mileage running with these, but for short sprints, cardio HIIT workouts, and strength training, they're an ideal shoe—and a great bargain.
---
BEST FOR WIDER FEET
Altra Solstice XT 2
The challenge: To create a cross-training shoe with a comfortable, roomy fit that also provides solid lockdown for your foot during lateral movement. With the Solstice XT 2, Altra pulls it off by overhauling the shoe's caged upper to be firmer and more secure—without sacrificing the generous, foot-shaped fit the brand is known for. Other Altra hallmarks help make this versatile trainer a top weightlifting shoe, like its light cushioning and flexible, zero-drop midsole, plus a grippy rubber outsole. But the Solstice also holds up well to cardio training, with just enough padding underfoot for lower-mileage runs. To increase durability, Altra also added reinforcement at the toe.
---
You Should Definitely Cross Train and, Yes, You Need the Right Shoes to Do It, According to Our Expert, Caitlin Giddings
RW: How do cross-training shoes differ from running shoes?
CG: For a more thorough answer to this, check out the "what to consider" section above. Essentially cross-training shoes tend to have more durable uppers; thinner, firmer, and more flexible midsoles; minimal heel-toe drops, except in the case of weightlifting shoes with reinforced heels; extra grip in the outsole; and protective overlays to better hold your foot into place. Many of these cross-training styles are built on lasts that are similar to your favorite running shoes; however, they also provide added stability and flexibility for all your workouts.
RW: How far can you run in cross-training shoes?
CG: Most cross-training shoes are designed to be worn for runs up to a mile or even two. However, many are only designed for quick sprints and cardio—so the distance you can comfortably run in a cross-training shoe depends on both the amount of cushion underfoot and your personal need for support while running.
RW: Why should runners cross-train?
CG: A recent study published in the Journal of Sport and Health Science revealed that runners who completed plyometric workouts twice a week improved their performance—and their power—in just six weeks (or 12 sessions total). And another study, published in the European Journal of Applied Physiology, showed that even well-trained ultramarathon runners had room for improvement: After 12 weeks of incorporating explosive plyo workouts into their routines, they saw a boost in their running economy, or their ability to run faster and longer, while using less energy. For most runners, cross-training adds variability to an all too often monotonous routine. When you log miles without doing anything else, your muscles adapt to the work and, because they're never pushed beyond the limit they've already reached, your strength gains begin to taper. Your progress plateaus. Your risk for overuse injuries increases. But building regular cross-training into your running schedule (especially when it's done strategically, under the guidance of a coach or trainer) can improve strength, power, speed, and even aid in your recovery.