Ask any runner to name three running brands, and undoubtedly Nike will be at the top of that list. The company's impact on the sport of running as a whole is irrefutable, and Nike's most significant contribution comes in the way of footwear. Nike running shoes have pushed the boundaries of innovation and elevated running to unimaginable levels. Not to take anything away from Eliud Kipchoge's historical sub-two-hour marathon in 2019, but it begs the question: Without Nike's help, would we still be chasing that elusive barrier? When you buy a pair of Nike running shoes, you get to experience this groundbreaking innovation with every step.
Best Men's Nike Running Shoes
The Expert: My passion for running started over 25 years ago in my senior year of high school when I became the No. 6 ranked runner in the nation in the 3K. Since then, I've been addicted to competitive running at every distance, from one mile to the marathon and trail racing. I've had at least one pair of Nike running shoes in my rotation since 1993, with my all-time mile, 3K, and 5K personal records set in the legendary Nike Zoom Kennedy Track Spike (which I still have today). My obsession with running shoes started in 2014 when I wrote my first shoe review. Since then, I've tested and reviewed hundreds of running shoes (plus clothing and gear!) for Runner's World, Outside Magazine, Muscle and Fitness, Footwear News, and other outlets. Today, when I'm not out racing, training, and testing gear, I'm an online running coach and founder of Run Your Personal Best.
How to Find the Best Men's Nike Running Shoes For You
Before you set your eyes on a particular Nike model, knowing a few essential items will go a long way in finding the perfect pair of men's running shoes. First, it helps to understand the basic anatomy of a running shoe. A running shoe has three main parts: the upper, midsole, and outsole. The upper is the soft portion of the shoe where the laces connect, the midsole is the thick layer of foam that resides underneath your foot, and finally, the outsole is the absolute bottom of the shoe and is responsible for grip and durability.
Knowing whether you'll primarily be running on roads or on trails is essential. Nike makes specific shoes designed for either road or trail running. The main difference between road and trail shoes can be found in the outsole: Trail shoes have thicker outsoles with deeper lugs to enhance grip on softer surfaces.

Now, it's time to consider what type of running you'll be doing in the shoes. Each Nike running shoe is best suited for a specific type of running. These include long runs, slow recovery runs, and race day, when every second matters. It can be hard for the untrained eye to decipher between the different models, but looking at a shoe's weight can give great insight into its purpose. Typically, the lighter the shoe, the more suitable it is for faster running, like speed workouts or racing. Men's shoes that weigh 9 ounces and above are likely best for everyday running, long runs, and recovery runs. Luckily, I vetted every Nike shoe and highlighted the best use case for each of my recommendations.
After speaking with specialty running store owners, physical therapists, and product engineers, they all agree comfort should be the No. 1 driver in finding the perfect men's running shoe. So don't overlook fit. The rule of thumb (literally) is that you should have a thumb width of space between your longest toe and the front of a running shoe. Regarding width, Nike running shoes generally run on the narrow side, favoring normal to narrow-footed runners.
Magic in the Midsole
At the heart of every running shoe is its midsole, the thick layer of foam that sits underneath your foot. It's the primary mechanism for how soft or firm a shoe feels and is also responsible for that bouncy feeling, often referred to as responsiveness. Nike's midsoles—including the popular ZoomX, React, and CushIon—are some of the best in the business.
ZoomX is Nike's highest-performing midsole and features a Pebax foam that was popularly used in aerospace engineering. Nike describes ZoomX as "lighter, softer and more responsive than any Nike foam," with which I wholeheartedly agree. Nike reserves this midsole for its premium racing and training shoes, such as the Vaporfly Next% 2, Alphafly Next%, and Invincible Run Flyknit 2. You'll pay a premium price for these shoes, but there's no doubt you'll get a premium ride.
If ZoomX is the fun, energetic midsole, Nike React is the steady, durable workhorse. Nike most commonly employs React in its everyday trainers because of the foam's reliably smooth and durable ride. CushIon, which used to be the headliner in Nike's top-selling running shoe, the Pegasus, is an older midsole that Nike is largely phasing out of its top models, except in some budget shoes like the Nike Winflo.
Bouncing on Air
Zoom Air is one of Nike's most predominant innovations, and the company uses it across all shoes in its portfolio, including the majority of my recommendations below. First introduced in 1995, Nike Zoom Air features pressurized bags of air embedded in a shoe's sole. This unique-looking technology, as most visibly apparent in the Air Zoom Tempo Next% and Air Zoom Alphafly Next%, surpasses foam's cushioning properties while reducing weight. When Nike installs Zoom Air in both the forefoot and rearfoot of shoes, the result is the perfect balance of give-and-take energy return, similar to the feeling of a moonbounce.
Upper Advancements
One of Nike's most significant influences on running shoes as a whole is how they've advanced upper technology. Today's uppers are lighter, stronger, and breathe better than twenty years ago, thanks to Nike Flywire and Flyknit technology. Flywire helps reduce weight while offering a better fit and foothold by using thinly spun filaments, or "wires," instead of heavy sewn-on overlays for support. Nike's best-selling running shoe, the Pegasus 39, features Flywire. Four years after Nike introduced Flywire, the company developed a revolutionary upper material that even more drastically reduced weight while also cutting back on wasted materials during the manufacturing process. Named Flyknit, this ultralight knitted yarn was specially engineered to be lighter, stronger, flexible, and more comfortable than anything on the market.
How We Tested and Recommended These Shoes
I've been reviewing running shoes since 2014, and I'll be the first to admit it's easy to get lost in endless scrolling on Nike's website, trying to find the perfect Nike running shoe. To help with your search, I've spoken with Nike engineers, physical therapists, and fellow runners about their experience with Nike running shoes. Through my own testing and with the help of a team of testers and input from Runner's World editors, I've narrowed down the best men's Nike running shoes for a variety of uses and pursuits. It's important to keep in mind that most of these shoes work perfectly well outside my suggested run category, but in testing, they scored particularly well in the corresponding categories.
---
Weight: 9.4 oz
Drop: 10 mm

As runners, we ask a lot from our daily trainers. Day in and day out, for recovery and uptempo runs, these trusty workhorse shoes take a beating. No other running shoe on the market has such a long-standing history of delivering comfort, quality, and durability model after model than the Nike Air Zoom Pegasus. The big story for 39th version is a huge drop in overall weight—nearly 1 ounce in the men's version. Nike also added an additional Air Zoom pod to the heel for extra cushioning for all the rearfoot strikers out there. The result is a noticeably lighter and softer Pegasus. So much so, that I might even classify the new Peg as an alternate speed day shoe. Slight upgrades in overall comfort include more padding along the tongue and collar and a more flexible, breathable engineered mesh. Testers found the new Peg to fit on the narrow side of true-to-size. Make no mistake, altering with a franchise shoe like the Pegasus can be risky, but hats off to the Nike engineers. They took the classic, quintessential Nike daily trainer and made it even better.
---
Weight: 10.3 oz
Drop: 10 mm
In a world where everything seems to be expensive, the Nike Air Winflo 9 proves a quality pair of running shoes doesn't have to be. For a shoe that doesn't get a lot of attention, testers were surprised at how smooth and capable the Winflo 9 felt, with one mentioning, "This is the perfect budget-friendly run or gym shoe." Compared to Nike's premium running shoes, testers described the Winflo 9 as a slightly less cushioned and responsive Pegasus. Underfoot, it features Nike CushIon foam (also used in the Pegasus 36) with a full-length Nike Dot Weld Air unit for that signature Nike Air cushioned landings. Another budget option from Nike is the $80 Renew Ride 3, but due to a lower quality midsole and no air unit, there is a noticeable decrease in ride quality versus the Winflo 9.
---
Weight: 10.9 oz
Drop: 9 mm

With an off-the-charts comfort level, you'll effortlessly bounce your way through the longest runs with the latest ZoomX Invincible Run Flyknit 2. The underfoot experience is nothing short of divine, thanks to the thick layer of Nike's top-tier Pebax-based ZoomX foam. Tested in the RW lab, ZoomX netted 70 percent of energy with each footstrike, more than any other material editors tested. The exaggerated-shaped forefoot and heel might look a little funny, but it adds a surprising amount of stability to the soft foam. You might think such a massively sized and soft shoe would feel clunky and mushy, but it's quite the opposite. One warning for people with strict easy-pace limits for their long runs: The Invincible Run Flyknit 2 has a spry, lively feeling that makes it easy to run fast, even when unwanted.
---
Weight: 6.9 oz
Drop: 8 mm

The Vaporfly saga continues with a much-awaited sequel to one of the fastest shoes we've ever tested. It picks up right where the original left off with a few fit refinements to the upper and the same loaded midsole that's the star of the shoe. Perched atop Nike's premiere ZoomX foam is a stiff carbon-fiber plate that runs from heel to toe, so you feel a propulsive spring with each step. Now, the upper incorporates patches of softer airy engineered mesh to boost breathability in key areas, while the reinforced forefoot (where most runners saw blowouts in the original version) improves durability. "I've run in the original Vaporfly 4% and a few other carbon-plated shoes, but the Next% 2 is immediately a step ahead of the rest," RW video producer and ultra-runner Pat Heine said. "The cushioning is super comfortable, and the specific tuning of the plate's stiffness and the extreme forefoot rocker makes me even want to walk faster when I'm wearing this shoe. The propulsive feeling in the midsole design is obvious, and for me, it translated to faster times—even on my tired legs."

---
Weight: 7.9 oz
Drop: 8 mm

Instead of making a third version of the Pegasus Turbo, Nike pivoted and designed the Tempo Next% as the daily training counterpart to the supercharged Alphafly. It has similar tech, like bouncy ZoomX foam and Air Zoom units in the forefoot, but it's tweaked for the rigors of weekly mileage and speed-oriented workouts instead of racing. In place of the stiff, snappy carbon-fiber plate found in the Alphafly, the Tempo uses a more forgiving composite plate for increased comfort and stability underfoot. Other alterations—like a wedge of React foam in the heel and more rubber on the outsole—increase the Tempo's durability, so you can rack up high mileage without tearing the shoe apart.
---
Weight: 10.9 oz
Drop: 8 mm

I've always found recovery runs to be some of the most painful types of runs. Sore and beaten up from yesterday's workout or long run, every step feels like you're carrying a ton of bricks. Lessen the load and give your legs a break from all that pounding with one of Nike's most cushioned daily trainers, the Air Zoom Vomero 16. Back by popular demand for its predecessor (which was not released in the US), the Vomero 16 continues to use a thin layer of Nike's most premium midsole, ZoomX, on top of a Zoom Air unit. The combination creates a welcoming landing zone and a smooth take-off. The only flaw, if you can call it that, comes in the upper. Instead of using something light like Flywire, the Vomero 16 sports a midfoot band, which does an excellent job of securing the foot but feels a bit over-engineered and clunky. Despite my so-so feelings about the upper, the Vomero 16 remains a top choice for easy- to moderate-paced running.
---
Weight: 10.5 oz
Drop: 8 mm

Although the React Infinity Run Flyknit 3 is technically classified as a neutral trainer (as opposed to a stability shoe), it runs inherently stable, making it a great option for anyone needing a touch of stability. This is thanks to a wide, flaring underfoot platform and supportive heel counter that gently supports and guides your foot through your gait. There's also a good amount of arch support built in. As expected from a stable shoe, I wouldn't call the React Infinity Run Flyknit 3 exceptionally soft like the ZoomX Invincible Run Flyknit 2. Instead, the thick, full-length Nike React sole offers up a medium cushioned feeling that's as smooth-riding as they come. However, all that midsole does come at a cost. At 10.5 ounces, it comes in as one of the heavier Nike shoes we tested. Still, whether you need stability or not, the React Infinity Run Flyknit 3 is one of those shoes everyone can appreciate.
---
Weight: 10.5 oz
Drop: 4 mm

Whether you're looking to rip down rocky technical trails or put yourself in cruise control over smooth, mellow dirt paths, our testers all agreed the Nike Air Zoom Terra Kiger 8 is the consummate do-it-all trail shoe. It's worth noting that this is not a highly-cushioned, plush-feeling trail shoe. With a modest stack height of 30 millimeters at the heel and 26 millimeters in the forefoot, the Nike React foam midsole, paired with Zoom Air pods in the forefoot, runs on the firm but highly responsive end of the spectrum. For better or worse, Nike continues using proprietary outsole rubber, which works wonders on dry surfaces but, as with this shoe's predecessors, not so well on wet rocks. Still, for men who enjoy a nimble, high-performing trail shoe with a good amount of ground sensitivity, this is one of the best you can buy.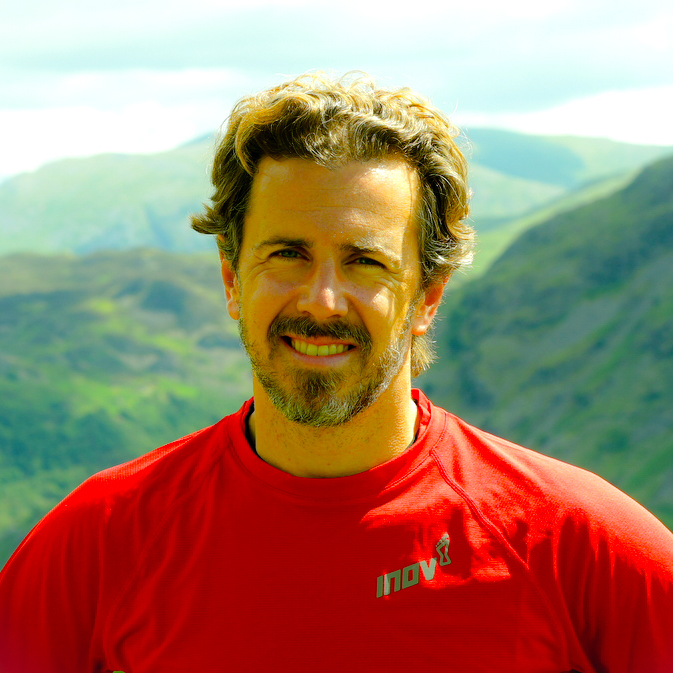 Cory Smith is a running coach and journalist specializing in running and fitness-related content and gear reviews. He is the founder of Run Your Personal Best, an online running coaching business that has helped hundreds of runners achieve personal bests in distances ranging from 800 meters to 100 miles. Cory holds a USA Track & Field Level 1 and 2 Endurance Certification and was the former Head Cross Country/Track Coach at Penn State Brandywine. Over his running career, Cory has held three Maryland state records, was a two-time National Championship qualifier while at Villanova University, and holds personal bests of 4:03 in the mile and an 8:05 in the 3K.