Lightweight running shoes have come a long way as both racing flats and daily trainers. For instance, you used to have to sacrifice some cushioning to save ounces—that's no longer the case. Thanks to new midsole foams and upper materials, supportive and even maximally cushioned shoes can come in well under eight ounces. On this list, you'll find pairs that cater to every preference for cushioning and support. Of the hundreds of pairs we test each year at Runner's World, the 10 options below are the razor-thin racers, plush long-run-capable trainers, and trail shoes that most impressed our team with their feather-light weights and phenomenal performance.
Down to a Science
The appeal of lightweight shoes is simply better running performance that feels more effortless. Carrying less weight on your feet can result in less energy expenditure and improved form and biomechanics, which similarly boosts stride economy and efficiency. Brands have further refined their newest lightweight running shoes by analyzing stride and gait patterns, using impact-measuring devices, and creating proprietary foams that return more energy with each footstrike. In short, the latest developments in design, chemistry, and biomechanics have led to shoes that can help you run faster and farther—or at the very least, feel lighter on your feet while you're doing it.
How We Tested
The shoes below floated to the top of our charts as the lightest shoes in the bunch, and every pair offers some protective cushioning underfoot, according to our RW Shoe Lab data. Experiential testing was also an important factor in our selection of the best lightweight trainers. Over 250 local wear-testers logged more than 100 miles in each of the shoes on this list to evaluate ride, durability, comfort, and responsiveness.
---
New Balance FuelCell Prism v2
Weight: 8.9 oz (M), 7.5 oz (W)
Stability shoes have been a dying breed, but they're not dead yet. And they're not just for plodding along, either: Just look at the Prism, a lightweight, stable speedster that's well-suited for track sessions, tempo runs, and even racing. While this type of lightweight stability shoe used to be more popular, some brands are still making good options. (Check out Asics's Gel-DS Trainer 26, Topo Athletic's Ultrafly 3, and Saucony's Fastwitch 9, too.) The first Prism was too soft, but the second iteration has been dialed in. It's soft without being squishy. Some testers say, paradoxically, that it feels firm but delivers all the cushioning they require. "As someone who runs competitively, while also having extremely flat feet, some shoes can be uncomfortable when running," one of our collegiate wear-testers said, "but I've gotten through all of my workouts without any problem in these shoes, even after putting 200 miles on them."
---
Asics MetaRacer
Weight: 6.7 oz. (M), 5.5 oz. (W)
Just when you thought Asics's legacy was solely stalwart daily trainers, the brand surprises with the MetaRacer, its first carbon-fiber-plated racing shoe. It pairs a rocker-style midsole with an aggressive toe spring that's designed to help reduce excess movement of the ankle, saving runners some energy. That, plus a carbon-fiber plate in the forefoot, help improve your stride efficiency. So, when you're digging for that second-half speed in a marathon, you'll still have some gas left in the tank to negative split. It helps that the shoe is radically light as well, weighing about the same as the benchmark Nike Vaporfly. "Normally, Asics's cushioning feels way too soft for me—but these were comfortable to go 26.2 miles without being too cushy," one tester said. "And wow, I felt fast—like I was ready to put a big race on my calendar."
Buy Men's Buy Women's Full Review
---
Hoka Rincon 3
Weight: 7.4 oz. (M), 6.2 oz. (W)

The Rincon has been a runner-favorite since the original model's release in 2019. It exhibits everything we love about Hoka without being a Hoka in the traditional sense. It's bountiful with cushioning, yet has a more streamlined profile—instead of the quintessential hulky Hoka exterior—that's built for everyday runs, speedwork, and even racing. This versatile trainer weighs less than previous iterations; the redesigned mesh upper weighs 0.3 ounces lighter and feels much more breathable. The curved sole—Hoka calls it an early-stage Meta-Rocker—helps promote smooth turnover.
Buy Men's Buy Women's Full Review
---
VJ Spark
Weight: 7.2 oz (W7)
At five millimeters, the Spark's lugs aren't super long, and they're not sharp like a set of YakTrax, but this shoe offers some of the best traction we've tested. How? The Spark uses VJ's 100 percent butyl rubber, which lets the outsole grip slick terrain due to its tacky hold and overall flexibility. The shoe is designed to be super lightweight and fast, so while you won't get cushioning for an ultra, the foam underfoot feels ample for trail runs and obstacle races. No, the fairly standard dense EVA midsole isn't on par with the latest bouncy nitrogen-injected TPU offerings out there. But you don't buy the Spark for its cushioning. You buy it for the grip to dodge roots and rocks at speed, or heck, even hop an OCR fire pit and scale a rope wall. "I ran with a friend who was wearing the Spark up in the Adirondacks," said deputy editor Jeff Dengate. "He was stuck to the wet rocks on Giant Mountain like a gecko. We had 5,000 feet of vert over the first seven miles and a 3,000 foot descent over the final three miles, so it was kinda treacherous."
---
Altra Rivera
Weight: 8.3 oz. (M), 6.7 oz. (W)
We whizzed down straightaways in Altra's Rivera, which replaces the Torin Mesh (both shoes have 26mm stack heights). It rides like you're running barefoot with just enough protection underfoot to shield you from stray pebbles. The springy Ego midsole provides a thin layer of cushioning. Your toes won't feel crammed in the wide toe box, and testers praised the Rivera's seamless upper for its comfortable, hotspot-free fit. Disclaimer: Ease into these zero-drop shoes at a slow pace. One of our editors skinned a knee after face-planting on the sidewalk after just a mile—then dusted herself off to run five more.
Buy Men's Buy Women's Full Review
---
New Balance FuelCell Rebel v2
Weight: 7.3 oz. (M), 5.8 oz. (W)
The Rebel is all about energy return, and that makes it a great pick for uptempo training. The original Rebel tested way above average for energy return in our lab tests, and New Balance claims the v2 is even more responsive, so you can expect a very lively shoe. It's made with FuelCell foam for a snappy feel underfoot, and it comes with a redesigned mesh upper that maximizes breathability and saves weight.
---
Brooks Hyperion Tempo
Weight: 7.3 oz. (M), 6.7 oz. (W)
The Hyperion Tempo may be the "training shoe" to the Hyperion Elite 2, but don't rule it out as a trainer for racing. The shoe is moderately cushioned, responsive, and more affordable than its $250 counterpart. Though it doesn't have a carbon-fiber plate, its DNA Flash midsole, which is made of nitrogen-infused foam, offers impressive rebound. The Tempo also gets the upper hand in sizing. The shoe runs in men's and women's sizes, resulting in a snugger, true-to-size fit for women (in contrast to the unisex-sized Elite).
Buy Men's Buy Women's Full Review
---
Skechers GOrun Maxroad 5
Weight: 8.7 oz. (M), 6.6 oz. (W)
Skechers continually innovates on its performance running shoes, rolling out high-tech materials to its entire lineup after they've been proven on the lighter, speedier models worn by elites like Meb and King Ches. We've seen its HyperBurst foam adopted widely, but another innovation is making its way across the line, all the way to the Maxroad: an H-shaped carbon-infused plate. Skechers embedded the carbon into its thickest sole, really making its long-run shoe more stable and lively. At easy paces, it supports the forefoot by making the platform stiffer; at faster paces, it lends a subtle pop on toe-off. One wear-tester, an overpronator who runs 45 miles per week at around 7:45 pace and previously gave the GOrun Razor Plus high marks for cushioning, praised the cushier Maxroad. "This shoe supported me in the right areas, put a spring in my step for speed workouts, and maintained its bounce throughout my long runs," she said.
---
Saucony Kinvara 12

Weight: 7.5 oz. (M), 6.5 oz. (W)

The Kinvara has returned to its roots with its 12th iteration. Besides being lighter and more flexible than the Kinvara 11, the 12 has more rebound and rides faster, too. Saucony did it by tweaking the Pwrrun foam's mix of EVA and polymers to boost energy return. This makes the midsole more responsive, but also delivers a slightly firmer feel. To counter some of that firmness, a slim layer of softer TPU-based Pwrrun+ foam sits closest to your foot to keep the shoe comfy as a daily trainer—long runs included.

Buy Men's Buy Women's Full Review
---
Hoka Zinal
Weight: 8.5 oz. (M), 6.9 oz. (W)
Hoka's Zinal is remarkably lightweight for a trail shoe—think of it as the trail version of the brand's Rincon. In testing, we found the Zinal especially shined for short, fast runs. All those features that pack on ounces—like rock plates, gaiter attachments, and taller lugs—have been scrapped in favor of a swifter, more agile underfoot experience. The nonaggressive tread (the Zinal has 4mm lugs) makes the shoe a true hybrid for runs on both road and trail.
Buy Men's Buy Women's Full Review
---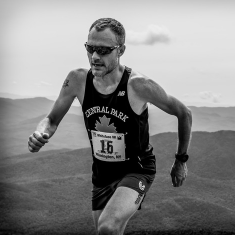 Runner-in-Chief
Jeff is Runner-in-Chief for Runner's World, guiding the brand's shoes and gear coverage. A true shoe dog, he's spent more than a decade testing and reviewing shoes. In 2017, he ran in 285 different pairs of shoes, including a streak of 257 days wearing a different model.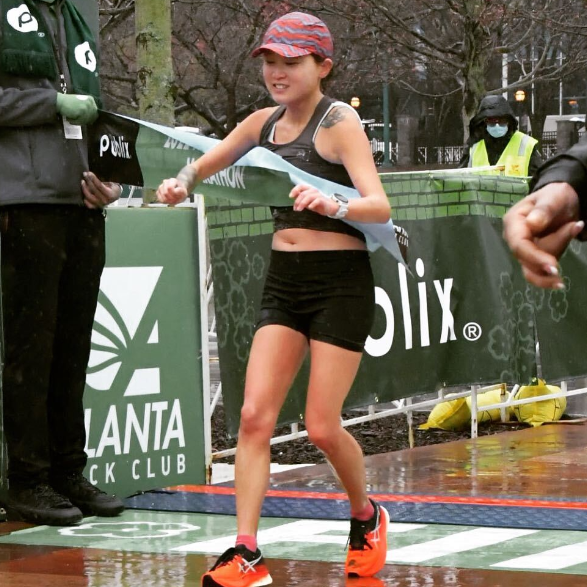 Test Editor
Amanda is a test editor at Runner's World who has run the Boston Marathon every year since 2013; she's a former professional baker with a master's in gastronomy and she carb-loads on snickerdoodles.